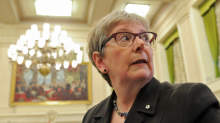 Old Port of Montreal CEO is Unapologetic
---
Taxpayer-funded CEO of the Old Port of Montreal, Claude Benoit, is unapologetic over her use of taxpayer dollars for her personal trip to New Zealand. She wasted working days touring the waterfronts and museums of New Zealand and used her off days to board a cruise – all at our collective expense. During her trip, she did not meet with the heads of various institutions that she visited as part of her full-time job, instead, she took pictures. It is time we send a strong message to bureaucrats who intend to use our money for their gain.
Benoit, and the Board of Directors of the Crown corporation that approved her, spent $10,000 reimbursing her 10 working days during her trip Down Under in 2008 and 2009.
"I did not meet anyone at the sites," Benoit told a parliamentary committee on Thursday. "I took pictures."
Her response to the spotlight was quite Conservative, she said it was a "campaign of smear and slander." Recognize this language? It came from Dean Del Mastro when his party was grilled over allegations of election fraud.
Del Mastro was the one to lead the charge, doubting anything she found wasn't already on the internet and told her to start paying for her vacations.
"I think you're well paid," Del Mastro told Benoit. "What I'd say to you is in the future, pay for your own vacations."
Benoit tried to defend herself, claiming she was getting ideas and that the expenses were approved by the board of directors, but MPs of all political stripes condemned her for her actions.
Liberal MP Dennis Coderre took a stab at her with a Conservative lens, saying that she acted like a "Conservative Minister" with her $1,000/month car allocation, even though she lives close to the Old Port.
NDP MP Charlie Angus questioned the ethics behind taking a vacation with taxpayers' money.
"It was your vacation, but you charged the taxpayer for things that you visited," said Angus. "I don't think it's necessarily up to the taxpayer to pay [for my vacations], even if I'm finding out wonderful things."
Benoit responded that the money was part of her undisclosed salary and is taxable, and that this was how she would compensate for her "work-related" travel expenses.
Benoit said that her institution is being trimmed in light of Conservative cuts. The annual executive retreats, traditionally held at a luxury resort in Mont-Tremblant are now being held in a less-expensive venue in Montreal, she said. However, there was no mention if her large salary as CEO or her perks would take cuts as well, perhaps the Conservatives should not have left the decision in her hands.
But Del Mastro is one to speak about using one's own money to go on trips. He should speak to his boss, PM Harper about that, and he should also speak to his colleagues Bev Oda, Lisa Raitt, Tony Clement and Peter Mackay about not using taxpayer money for their own virtues. While each of the previously mentioned members have repaid their expenses, it is still fundamentally wrong for them to behave in such a manner, thinking that they are entitled, and thinking that they can borrow and reimburse taxpayers whenever they like.
What this recent scandal proves, in light of many surrounding the Conservative government and bureaucratic institutions, is that austerity is needed but it is delivered to the wrong persons. What this proves is that our system of management in Canada needs rethinking and shrinking.
Perhaps, we would have a lot more money if we weren't paying for large bureaucratic offices and if we weren't paying for the perks that these civil servants get. Perhaps if people entrusted with the responsibility of managing our systems respected the tax payer and cut their own salaries and perks, instead of laying off thousands of their employees, Canada would move a few steps forward, instead of several steps back; perhaps, our systems would be in better shape and be more effective too – just a thought.
The days of entitlement need to end and they need to end now. It is time that government officials and administrators respected the people who have to pay for their paychecks.
Are you fed up of high-level bureaucrats and politicians (MPs and Senators) who think they are entitled?