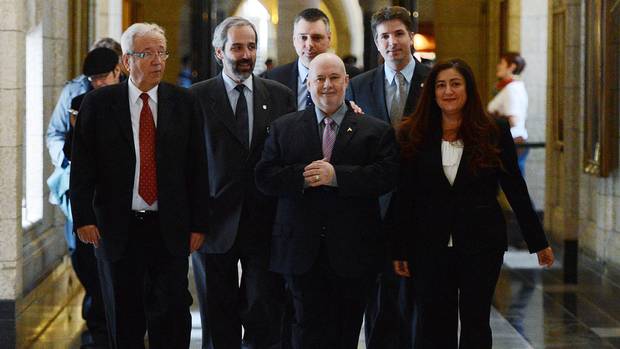 Second NDP MP Ditches the Orange Wave
---
NDP MP Claude Patry in the Quebec riding of Jonquière-Alma has defected to the Bloc Quebecois becoming the second of the Orange wave to leave the Official Opposition. Patry leaves citing his stance on Quebec sovereignty sparking backlash from the governing Conservatives on the NDP's commitments to Canada. Patry will join the other 4 remaining Bloc Quebecois MPs changing the seat count to 5 for the BQ and 101 for the NDP.
"I voted for Quebec sovereignty in the last two referendums. I hoped that Quebec should become a country and I still hope for that," newly minted Bloc Quebecois MP Claude Patry said.
Patry said that his views parted with that of the NDP when they proposed a private member's bill stating that a referendum's wording must be approved by both federal and provincial governments. The NDP position, he said, "demonstrates unequivocally that the party favours Canada's interest over those of the Quebec nation."
NDP Leader Thomas Mulcair defended his party's stances saying that Patry fought an election defending the Sherbrooke Declaration and should resign and fight as a BQ candidate in a by-election.
The Conservatives, meanwhile, took the defection as another opportunity to question the NDP's stance on national unity.
"I am somewhat concerned, but I can say it's not a big surprise," Prime Minister Stephen Harper said. "There is a certain ambiguity within the NDP caucus in Quebec as to Canadian unity. There are a lot of connections between the NDP Quebec caucus and Quebec Solidaire [a provincial separatist party], and I am not surprised to see this type of development."
Patry follows Liberal MP Lise St-Denis who also was elected as part of the orange wave in her Quebec riding of St-Maurice-Champlain but left for the Liberals because she felt Liberal positions were more pragmatic and suited to her constituency than those of the NDP. Unlike with Patry, St-Denis was met with a major backlash from inside the NDP which acted to ruthlessly attack her publicly for her defection.
Last year, the NDP called her defection a lack of respect to democracy, and party insiders didn't have anything good to say about her character either.
"They [said] Ms. St-Denis was a difficult, almost impossible person to work with," CTV's political correspondent Bob Fife said, relating the NDP's standpoint that, "This is not a coup for the Liberal Party."
However, a year later and controversy over the fact that the NDP would allow Quebec to separate with a referendum with 50%+1 majority while requiring a two-thirds majority to amend their party's constitution has kept them fairly mum on the recent defection to the Bloc Quebecois. Either this or perhaps they have a preference for those who defect to the Bloc Quebecois over those who defect to the Liberals?