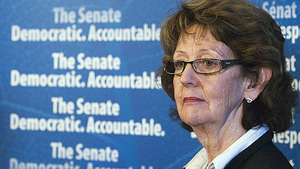 The Duffy Affair: Second audit under way for Duffy
---
Given recent controversy surrounding then-Conservative senator Mike Duffy's 2011 campaign expenses, the senate leader for the government has asked for a second audit into his expenses. The audit will determine if the senate business Duffy claims on April 27, 28, 29, 2011 are legitimate or if they represent double dipping of campaign charges declared in a Conservative campaign invoice.
"In light of yesterday's media reports regarding Senator Duffy's expense claims, senators will be asking that the report concerning Senator Duffy be referred back to committee for further examination taking into account this new information," a spokesperson for Marjory LeBreton, leader of the government in the Senate said Friday.
CBC reported the audit can be ready as soon as Parliament resumes sitting on Tuesday.
An invoice from Joe Oliver's 2011 campaign revealed over $1,500 in travelling and hotel expenses were charged to the Conservative party for a tour of the Greater Toronto Region on April 27 and 28.
The audit from Deloitte, however, has found Duffy declared both those days as business days while at an "other location."
However, the picture wasn't completed since Duffy refused to cooperate with the audit, especially after repaying $90,172 in inappropriate housing allowance expenses which came from a cheque from Prime Minister Stephen Harper's right hand man, chief of staff Nigel Wright.
The NDP has sent a letter to Elections Canada Friday asking them to look into these campaign expenses.
Do you think Mike Duffy charged taxpayers for campaign expenses in 2011? Will the report be legitimate, or will it be whitewashed like the first one?